The Common Fisheries Policy (CFP) aims to ensure that fishing and aquaculture activities are environmentally sustainable and consistently managed to achieve long-term economic, social and employment benefits. However, its success depends on a system of effective monitoring, inspection and enforcement for fishing operations in EU waters and activities of the EU fleet globally.

As the future of this control system is currently being debated in the European Parliament, and by representatives of EU Member States, the EU Fisheries Control Coalition is working hard to promote Remote Electronic Monitoring (REM) as an effective monitoring system, which is proven to help capture the information needed to cross-check fishing logbook data and therefore bring greater transparency to our seafood supply chains. In our view, the Commission's proposal for a revised Control Regulation should be expanded to mandate the introduction of REM on board all vessels over twelve metres in length, alongside an additional percentage of small-scale vessels that are at a high risk of breaching the rules of the CFP.

REM, which includes the use of CCTV, not only discourages regulatory violations because fishing activities are monitored, but also adds scientific legitimacy to self-reported data. This can inform fish stock assessments, bycatch monitoring and, ultimately, management decisions that successfully encourage stock recovery and sustainable practices within the EU fleet. Furthermore, as the catch sector comes under increasing pressure to guarantee ethical production for consumers, REM can provide responsible fishers with verifiable evidence that can be used to maintain access to key clients and gain sustainability certifications. Thereby adding significant market value to their catch.

However, the technology cannot deliver these benefits alone. Experience from over 100 trials and 12 fully implemented programmes worldwide tells us that the most successful monitoring systems rely on multi-stakeholder engagement in both their design and implementation. Therefore, after becoming aware of concerns raised by industry in relation to practical implementation, the EU Fisheries Control Coalition felt it important to work towards such engagement by hosting an interactive webinar, designed to build trust in the technology and identify areas of common ground amongst key actors.
To reflect the diversity of stakeholders involved in an effective REM programme, the event brought together leading experts from REM providers (Jason Bryan, Archipelago Marine Research), national authorities (Mike Gerner, formerly Australian Fisheries Management Authority), the fishing sector (Julio Morón, OPAGAC) and NGOs (Mark Zimring, The Nature Conservancy). The event was kindly chaired by WWF (Katrin Vilhelm Poulsen, Seafood Policy Officer, Acting Marine Policy Manager) and moderated by The Nature Conservancy (Jack Brett, Ocean Governance Consultant).
---
View a full recording of the webinar:
---
'Current technology' – Jason Bryan (06:36)
To kick off discussions, Jason Bryan (Archipelago Marine Research) provided a much needed overview of the latest developments in electronic fisheries monitoring. Mr Bryan touched upon how, from a technological perspective, REM is already in a position to provide workable solutions to the 'big questions' surrounding implementation. In particular, attention was drawn to the reliability of the technology. As even in British Columbia, where over 90% of vessels operate REM technology that was declared 'end of life' over five years ago, fishers have only had to cut trips short for repairs in 0.76% of cases. In his words, it is important to remember that:

The EM systems that we work with have been used on vessels of all sizes and all gear types and in almost every major fisheries zone in the world…technology is not what limits the use and implementation of electronic monitoring.
Instead, emphasis should be placed on working with stakeholders to ensure that we can constructively drive the technology to scale; creating a steadily growing market that guarantees REM providers the financial security to increase manufacturing capacity, invest in R&D and further drive down costs.

In this sense, the Coalition believes that an REM product, which is implemented in phases through a revised Control Regulation, would provide the ideal environment in which REM providers can grow incrementally alongside the demands of their market.
See Mr Bryan's presentation here.

---
'A fundamental tool for monitoring fisheries in Australia' – Mike Gerner (34:54)
As a former manager of electronic monitoring programmes, Mike Gerner built upon the technical debate from a regulator's perspective; citing how REM had been a "game changer" for fisheries governance in Australia. Touching upon cost, data-processing and the development of artificial intelligence. He also emphasised the opportunities for industry to capitalise on enhanced data quality, providing specific examples of how companies already use government-mandated REM systems to help gain sustainability certifications and support new marketing strategies.

Moreover, on managing access to data, Mr Gerner highlighted Australia's "perfect record" on privacy and how initial concerns can be allayed by working with all parts of government and industry to ensure total transparency over what, when, how, and by whom data is being collected.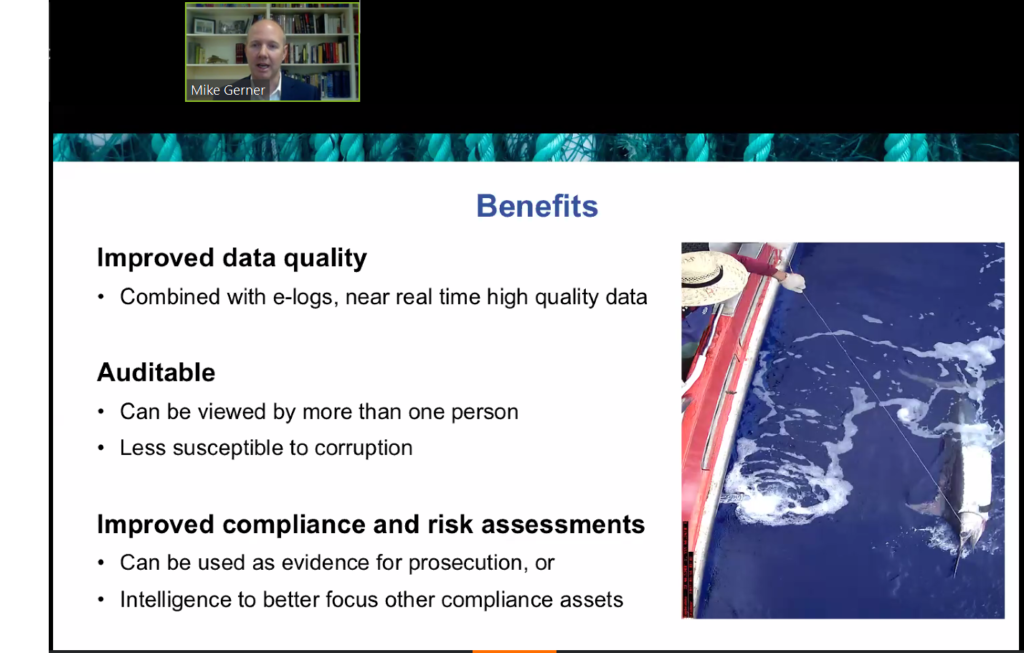 It really is something that is day-to-day life for us…We would never go back.
See Mr Gerner's presentation here.
---
'The OPAGAC experience' – Julio Morón (1:01:34)

Julio Morón took the opportunity to delve deeper into current industry experiences with REM. He explained how OPAGAC's electronic monitoring program, which provides tailor-made systems to every vessel, reaffirms fishers' 'social licence' to operate by providing verifiable evidence of conformity with sustainability and human rights initiatives. He also evidenced industry's support for enhanced fisheries management by highlighting how OPAGAC already shares its REM data with government and scientific organisations.

Mr Morón expressed that industry's main concern was the need to maintain a level playing field; avoiding a situation where EU vessels face unfair competition in the global market due to the demands of domestic monitoring and control legislation. He therefore stressed the importance of ensuring that stakeholders place the same level of pressure on RFMOs when it comes to pushing for stronger regulations on monitoring.

See OPAGAC's presentation here.
---
'A 'big picture' perspective on REM' – Mark Zimring (1:25:27)

After learning about what REM can achieve on a technical level and grounding this within specific examples, it was important to take a step back and assess what this could mean for the future of fisheries monitoring. For this, Mark Zimring (The Nature Conservancy) brought together key points raised in the preceding presentations to answer some of these 'big picture' questions. For example, what factors are currently driving the adoption of REM within the fishing industry? What could this mean for the European context? And what could a roadmap to 100% fisheries transparency look like?

Mr Zimring rounded off the webinar with an insightful Q&A, where he was able to draw upon his experience as Director of TNC's Indo-Pacific Tuna Program to: delve into the finer technical details of REM; speak on data storage; explore the extent of government involvement in data review processes; and discuss the support that the technology might offer to traditional monitoring tools.
See Mr Zimring's presentation here.

---
Key themes & poll results

Across all four presentations it was interesting to see three recurring themes: the broader benefits of REM beyond compliance, the importance of multi-stakeholder collaboration, and the global potential of fully documented fisheries.

This was similarly reflected in our polling, where 79% of participants said that they left feeling more confident that REM was capable of delivering benefits to both industry and the environment, whilst 62% listed either multi-stakeholder collaboration or the need for a level playing field as the primary consideration the EU should take into account when progressing with the introduction of REM.

Given that fishing industry representatives made up the largest proportion of our audience (38%), these outcomes are very encouraging for the widespread adoption of REM. The EU Fisheries Control Coalition will continue to engage with stakeholders to ensure that the EU adopts clear requirements for Member States to establish fully documented fisheries.