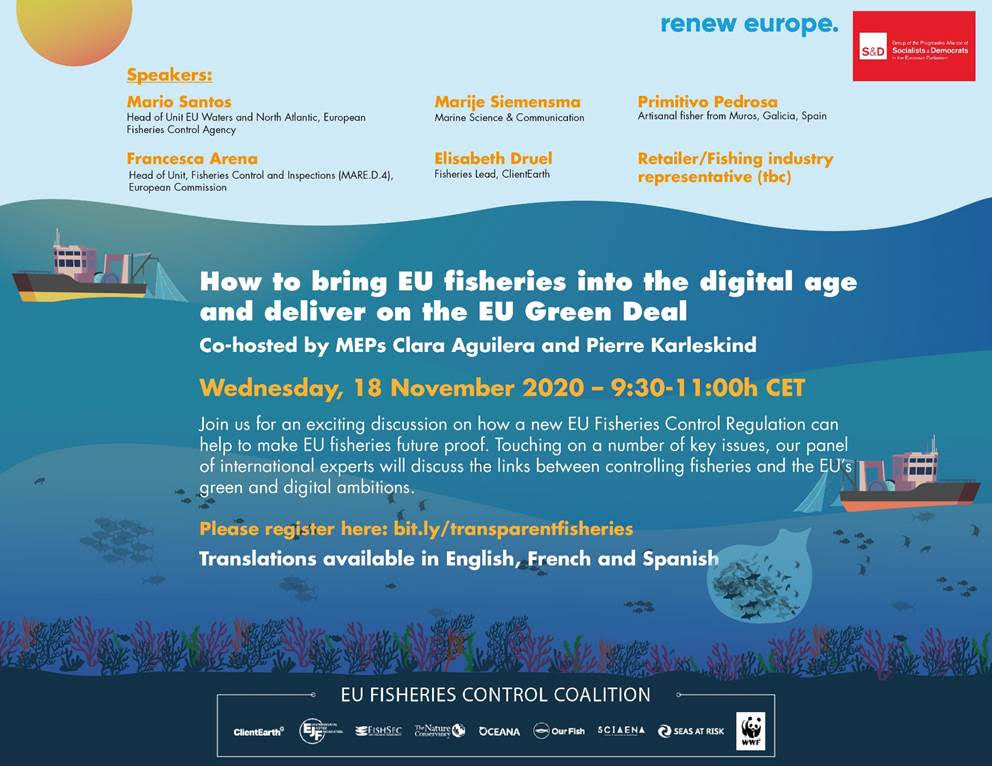 ---
MEP Clara Aguilera, rapporteur of the Fisheries Control Regulation, and MEP Pierre Karleskind, chair of the Fisheries Committee, together with the EU Fisheries Control Coalition are pleased to announce a virtual event to discuss how the Fisheries Control Regulation can help deliver the European Green Deal and make fisheries fit for the digital age.
The ambition of the Common Fisheries Policy can only be fulfilled if efficient and coherent rules are in place both to ensure the appropriate level of oversight, and also guarantee the reliability of catch data. The EU's fisheries Control Regulation is – together with the Illegal, Unreported and Unregulated (IUU) fishing Regulation – the cornerstone of its fisheries control system. It sets the rules applicable to the monitoring and control of EU fishing vessels and its implementation has wide-ranging implications for EU fishers, consumers and the marine environment.
The European Commission's proposal for the revision of the fisheries control system puts forward measures to make the system more effective and efficient, in a way that begins to address both identified loopholes that undermine harmonised fisheries controls across EU Member States, and also the unreliable and incomplete nature of existing catch data. It is now in the hands of the European Parliament and the Council of Ministers to increase the ambition of the control system to ensure a proper level playing field across the EU for fishers and everyone who depends on our marine environment.
Join our panel of international experts for an exciting discussion on how a new EU Fisheries Control Regulation can help to make EU fisheries future proof; exploring the links between controlling fisheries and the EU's green and digital ambitions.
The event will take place on Wednesday, 18 November 2020 – 09:30-11:00 (CET).
---
Please register here if you would like to attend.
---